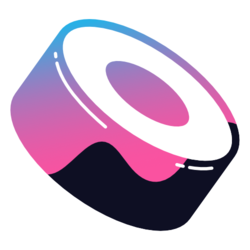 SUSHI
Sushi
USD 6.15
EUR 5.16 • BTC 0.00020971 • ETH 0.0035
Add to Watchlist
Add to Rewards
Create an Alert
0
1,012
Rank: 62
Market Cap: $1,159,281,376
ATH: $23.38, 2021-03-13T23:44:36.774Z
Maximum supply: 250,000,000
Circulating supply: 189,370,484
Contract Address: 0x6b3595068778dd592e39a122f4f5a5cf09c90fe2
Description:
Sushi is a DeFi protocol that is completely community-driven, serving up delicious interest for your held crypto assets. On Sushi, you can take advantage of passive-income providing DeFi tools such as liquidity providing, yield farming and staking. Furthermore, due to the decentralized nature of being an AMM (Automated Market Maker), Sushi has fewer hurdles to execute your cryptocurrency trades and all fees are paid to the users who provided liquidity, just as it should be!
Topics
New Topic
News