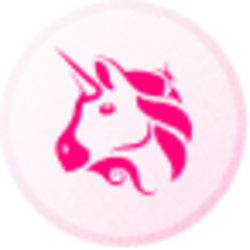 UNI
Uniswap
USD 23.75
EUR 19.67 • BTC 0.00050584 • ETH 0.0161
Add to Watchlist
Add to Rewards
Create an Alert
0
396
Rank: 13
Market Cap: $7,225,866,677
ATH: $32.50, 2021-02-20T17:06:48.166Z
Maximum supply: 1,000,000,000
Circulating supply: 309,610,295
Contract Address: 0x1f9840a85d5af5bf1d1762f925bdaddc4201f984
Description:
UNI is the governance token for Uniswap, an Automated Market Market DEX on the Ethereum blockchain. The UNI token allows token holders to participate in the governance of the protocol. Key decisions such as usage of the treasury or future upgrades can be decided through a governance vote.
Topics
New Topic
News