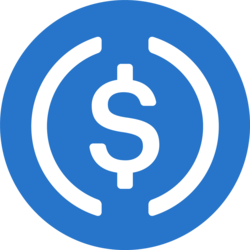 USDC
USD Coin
USD 0.9996
EUR 0.8402 • BTC 0.00001638 • ETH 0.00045590
Add to Watchlist
Add to Rewards
Create an Alert
0
474
Rank: 14
Market Cap: $11,022,094,003
ATH: $1.1700, 2019-05-08T00:40:28.300Z
Maximum supply: 0
Circulating supply: 11,018,786,987
Contract Address: 0xa0b86991c6218b36c1d19d4a2e9eb0ce3606eb48
Description:
USDC is a fully collateralized US dollar stablecoin. USDC is the bridge between dollars and trading on cryptocurrency exchanges. The technology behind CENTRE makes it possible to exchange value between people, businesses and financial institutions just like email between mail services and texts between SMS providers. We believe by removing artificial economic borders, we can create a more inclusive global economy.
Topics
New Topic
News