Inflection POINT by John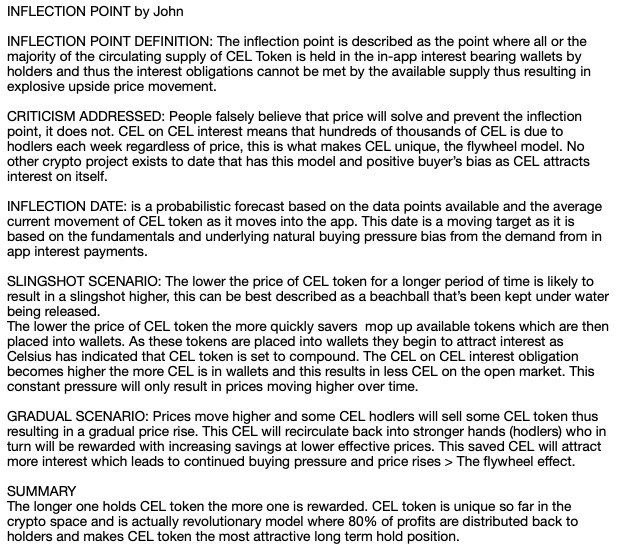 INFLECTION POINT DEFINITION
The inflection point is described as the point where all or the majority of the circulating supply of CEL Token is held in the in-app interest bearing wallets by holders and thus the interest obligations cannot be meet by the available supply thus resulting in the explosion upside price movement.
CRITICSM ADDRESSED
People falsely believe that price will solve and prevent the inflection point, it does not. CEL on CEL interest means that hundreads of thousands of CEL is due to hodlers each week regardless of price, this is what makes CEL unique, the flywheel model. No other crypto project exists to date that has this model and positive buyer's bias as CEL attracts interest on itself.
INFLECTION DATE
is a probabilistic forecast based on the data available and the average current movement of CEL token as it moves into the app. This date is moving target as it is based on fundamentals and underlying natural buying pressure bias from the demand from in-app interest payments.
SLINGSHOT SCENARIO
The lower the price of CEL token for a longer period of time is likely to result in slingshot higher, this can be best described as a beachball that's is kept under water being released. The lower the price of CEL tokens the more quickly savers mop up available tokens which are then placed into wallets. As where tokens are placed into wallets they begin to attract interest as Celsius has indicated that CEL token is set to compound. The CEL on CEL interest obligation becomes higher the more CEL is in wallets and this results in less CEL on the open market. This constant pressure will only result in prices moving higher over time.
GRADUAL SCENARIO
Price moves higher and some CEL hodlers will sell some CEL token thus resulting in a gradual price rise. This CEL will recirculate back into stronger hands (hodlers) who in turn will be rewarded with increasing savings at lower effective prices. This save CEL will attract more interest which leads to continued buying pressure and price rises>The flywheel Effect.
SUMMARY
The longer one holds CEL token the more one is rewarded. CEL token is unique so far in the cryptospace and is actually revolutionary model where 80% of profits are distributed back to hodlers and makes CEL token the most attractive long term hold position.